MOTIONGATE Dubai, a theme park for full family fun
Share post
From Riverland we enter a movie set. We hear happy music from the speakers, the water vents cool us off and we follow a grim glittery path that leads us to our biggest surprise in Dubai Parks & Resorts: Motiongate Dubai.
After the entrance photo with the film above the gate and the usual security check of our bags, we scan the entrance tickets and we also check the eternal fingerprint issue this time: one of the four invariably bugs. We solve, however, and we enter a magnificent world.
STUDIO CENTRAL, as in any other amusement parks, has a main street, a few shops for renting strollers for babies or people with reduced mobility, lockers, toilets, photo shop, various souvenir shops and a pastry shop.
From the middle of the park, next to the fountain, you may enter into three intensive and heavily visited areas by Familia Hai Hui: Columbia Pictures, The Smurfs Village and DreamWorks. Each one hosts souvenir shops, restaurants or snack bars and rest areas (toilets and areas for mother and child). I do not detail them, the food is about the same with small variations, a lot of fast food, sweets, ice cream, waffles, candy or popcorn. Junk food, as I said.
Right on the left side of the fountain there is an area under construction, in the Lions Gate area, a super cool rollercoaster, "Capitol Bullet Train" inspired by The Hunger Games – who saw the movies can imagine it will not be suitable for children under 130 cm.) Next to this is a huge Hollywood theater called "Step Up Dubai, all in!", a hip hop musical and Step Up series stunts. Honestly, we did not hear about this series, we did not go with the children to the show, we had too much fun around. But let's take them one at a time, mark what we particularly enjoyed.
COLUMBIA PICTURES presents!
(sorry, couldn't help using that phrase!)
"The Green Hornet: High Speed Chase" is a 4-seat cute little car, inspired by the movie of the same name, a rollercoaster with unexpected moves, unexpected turns, fast descents and climbs. Only children between 105 and 130 cm, accompanied by adults, are allowed.
"Ghostbusters: Battle for New York" draws us into the atmosphere of original films through a narrow corridor that resembles a library, as in the first film with Bill Murray, Dan Ackroyd and co. We get into a car with two seats in front and two in the back and we are handed over some guns to shoot the ghosts that appear on the screen during the walk. We had fun and, of course, at the end I had the highest score. NOT!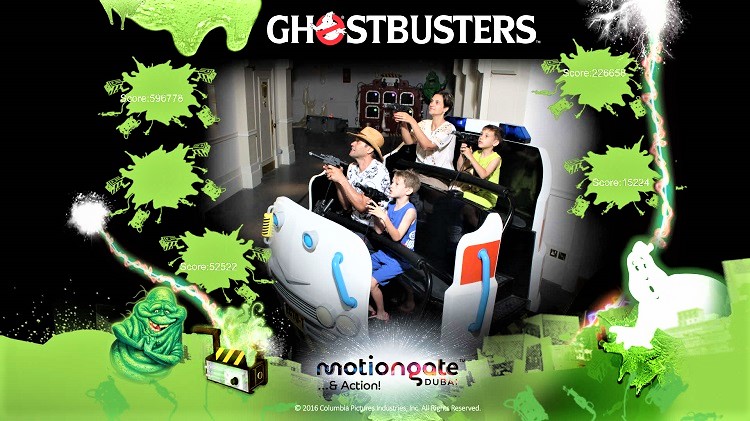 Children between 92 and 122 cm are allowed to ride with adults, but at the age of three, I think they would be scary. Andrei, the most cautious in the family, was afraid the first time we rode, after that he realized that there were films projections on the screens, that there are no ghosts (or are there?) and that we are having fun. So we rode again and again.
Anyway, every time we exit through the souvenir shop, we all sang loudly:
"If there's somethin' strange in your neighborhood
Who ya gonna call (ghostbusters)
If it's somethin' weird an it doesn't look good
Who ya gonna call (ghostbusters)"
"Hotel Transylvania" – the hotel for monsters, hosted by Count Dracula's castle, his daughter Mavis and their friends, invited us for a walk in a four-seater car through dark and dark décor. First time it was spooky (Andrei was totally all over me, though he saw the movie and knew the characters) because of the darkness, the rotating movements and the stories that were heard from the speakers. In the same room, more cars were running on a sensor system, sometimes we thought we were about to collide, but each had a well-established itinerary. The system seemed fascinating to me, especially since you could not see anything on the floor.
"Zombieland Blast Off" is a huge tower, 58 m high, from which you made a free fall with the chair. Children under 130 cm are not allowed, so we have not entered. Nor we would have wanted to, it is not our desire to experience such rides, in any other park.
Instead, we wanted to enter "Underworld 4d" – a theater with a show thriller, a 4d (multisensorial) show depicting the battle between Vampires and Lycans. We changed our minds when we found out what the story was (parental advise for children up to 15 years of age is also necessary because it includes scenes of violence and blood).
But we enjoyed to the fullest: "Cloudy with a chance of meatballs: River Expedition". Warning: You Will Get Wet, Possibly Soaked!
In a setting of giant hamburgers, fruits and giant potatoes, along a fast and uneven river, in a round 8-seater, we got wet by having so much fun. The splash was welcomed during the 35-40 degrees Celsius from outdoors!
Pacific Playland Midway Games and Game Garage were Game Garage – arcade games, where you paid extra, but we are not interested in this kind of fun.
THE SMURFS VILLAGE
The area is dedicated to the little blue creatures loved by children and abounds in amusements for those aged 2 to 10 years. "Smurfs Studios Tour" is a family journey with the car behind scenes in the movie theater, where you can see all the famous smurfs. Children between 92 and 122 cm must be accompanied by an adult.
"Smurfs Village Express" is a small, but speedy rollercoaster, a train ride for the whole family making two laps through an outer landscape where that big and evil eagle destroys the smurfs village by throwing stones in their houses and their crops. Children between 100 and 122 cm are allowed in the rollercoaster only accompanied by an adult.
The boys liked it a lot and we rode it several times, especially for the sake of Philomina of Malawi, a very funny, charismatic and friendly girl. She was singing, applauding, clearly enjoying her work, making a special greeting with the boys, talking and knowing what their names were. Thanks for your friendship, Philomina!
"Smurfs Village Playhouse" is a small indoor theater where small guests can interact with Brainy Smurf. A nice show inside (arrghhhh, air conditioning), about 15 minutes, where the smurfs speak, interact and dance with the children attending. Here below a short movie with Brainy Smurf and Andrei, so delighted that he had been chosen from all the children!
"Woodland Play Park" is a great outdoor playground, with suspended rope bridges, slides and mushroom-shaped cottages. In fact, there are colorful mushroom-shaped cottages all over the area.
And we continue towards our family most favourite area where we spent most of our time (and not just because it's completely indoors, we went from 40 degrees to 20 degrees, and passing through the four sub-zones we had to wrap ourselves in some big scarves).
DREAMWORKS
At the entrance we pass by the Fountain of Dreams: a multi-media space with the favorite characters in DreamWorks animation movies. The statues are made of bronze and correspond to the entrances from the 4 sub-zones: Shrek, Madagascar, How to Train your Dragon and Kung Fu Panda.
SHREK area imitates his house in the forest, the swamp, Shrek and Fiona's birthplace of the triplets. We took Shrek's merry fairy tale journey in a car that travels through a setting meant to tell the story of the encounter and love between Shrek and Fiona.
At Shrek "Meet and Greet," even if we did not encounter Shrek and Fiona, the kids took a picture with Puss'n Boots and all of us one in Fiona's onion  carriage.
HOW TO TRAIN YOUR DRAGON area shows a Viking village with a children's play area including water (Camp Viking). "The swinging viking" is a wooden ship that swings to the left and to the right as it becomes faster and faster for a few minutes. Children between 120 and 130 cm must be accompanied by an adult.
We rode over and over again the Dragon Gliders, a suspended rollercoaster (you're trapped in a bumper chair and flying a "dragon," alongside the main characters in the movie, Hiccup, Astrid and Toothless.) The Rollercoaster is great, the very well made action figures and the flight over the viking area and village give you the feeling that you are right there in the story. Children between 105 and 122 cm must be accompanied by an adult.
We loved flying with dragons and defeating the Ice Dragon!
In MADAGASCAR we found "Melmam Go-round" – a carousel with the characters of the latest film with the same name, the 4 main characters (Alex, Gloria, Marty and Melman), but also those from the circus or the crazy penguins. Children between 95 and 122 cm must be accompanied by an adult.
"Penguin air" is also a two-seater bicycle carousel where you have to step out of the pedals to get up from the ground. Children between 105 and 122 cm must be accompanied by an adult.
"Madagascar: Mad Pursuit" is the biggest surprise in this park, we did not know what to expect. At Universal Studios Singapore, Madagascar's ride was a super friendly boat ride alongside the loved characters. Here we just found out that it was a rollercoaster. It's a good thing we did not know what awaits us and all 4 of us rode the attraction first time. JUST LOOK AT OUR FACES! :))))
After the first round, Andrei refused to ride again, he thought it was that scary. It is, indeed, the fastest coaster in the park, in semi-darkness, producing a lot of adrenaline. But Ionut (adrenaline junky, just like his mother) and we, adults, loved it. Loved it, I tell you! Children between 125 and 140 cm ride only with adults, and this is a special reminder: "Mad Pursuit is a high-speed roller coaster that includes sudden and dramatic acceleration, climbing, tilting, and dropping. Experience the ride ".
KUNG FU PANDA has central attraction "Mr. Ping's Noodle Fling" for children between 90 and 122 cm accompanied by adults. What we liked and repeated everyday was "Kung Fu Panda: Unstoppable Awesomeness", a 3D multisensory ride in which we accompany Master Po and the other characters in a boat that moves and shakes, trying to deliver a gift to the Emperor, as we fight with the negative characters and pass through all sorts of happenings.
MOTIONGATE DUBAI was such a nice surprise for us, we would go back any time.
Read about our adventures at Legoland Park and Legoland Water Park, or our hotel accommodation review about Lapita Hotel Resort.
Photo gallery
Video gallery
Share post
Comments