Bay or Bust: Oakland, a hidden gem near San Francisco
Share post
We were so disappointed and upset that our schedule in San Francisco changed that we couldn't wait for the Oakland part! Angry and sulked (one would imagine that we were really anxious to discover SanFran, suddenly our schedule and visits changed, so we barely managed to see the 5 attractions mentioned in the previous article), we boarded the next ferry to Oakland.
The schedule planned by the VISIT OAKLAND office and the efforts of the local team wiped out the initial disappointment, the friendly people at Visit Oakland (especially the dedicated Rhanee Palma – VP of Sales and Services and Rex Maxion – Sales Manager) were so friendly and professional as they "sold" our destination very well.
Go Warriors!

It wasn't hard at all to notice that Oakland is not only a great destination for those who really want to explore California, as being very close to San Francisco (so you can make at least a one-day trip!), it is, in fact, a complete and amazing destination that offers relaxation, fun, amazing culture and fine cuisine, all together!
WATERFRONT HOTEL was our hospitable host for our two nights in Oakland, a boutique hotel near Jack London Square, very close to the ferry terminal and a great starting point for exploring the city. We stayed in a spacious room with an exit to the pool, so we left our luggage and ran to discover the city.
Rhanee, Rex and Allie (from PR), along with the back-office team and their partners, made sure we had a pleasant stay and pointed out our schedule for the day, which included:
Oakland Zoo,
Oakland Museum of California,
Claremont Club and Spa, A Fairmont Hotel
Jack London Food Tour- Local Food Adventures
Temescal Alley
We tasted excellent dishes at Doña Tomás and Abstract Table, we had a beer tasting (cool experience, you'll see below why) at Drake's Dealership, we had fun and played at Plank.
 So here's why Oakland is a really hidden gem of California:
First stop: OAKLAND ZOO and California Trail
Oakland Zoo isn't very big, but they made the best of it, especially since they provide gondola rides (the gondola round trip is free when you buy your Zoo ticket from the entrance) to the newly laid out California Trail and you have a very beautiful view from high up!
Oakland Zoo, like most zoos, is divided into several areas: Adventure Landing, African Savanna, California Trail, Children's Zoo, Flamingo Plaza, Tropical Rainforest and Wild Australia.
A transformational project that furthers the care, education and conservation of animals, the California Trail provides an interpretation of one of the greatest stories of change in California and emphasizes the role of humans in shaping the ecology of the San Francisco Bay Area. By organising exhibitions of native animals and plant habitats, the Zoo highlights the delicate balance between plants, animals and humans and the impact of change on all three.
On the California Trail you can spot: the American bison, American black bear, Californian condors, bald eagles, grey wolves, grizzly bears, jaguars and mountain lions.
More information and images on the official page of Oakland Zoo.
Second stop: OAKLAND MUSEUM OF CALIFORNIA and an unusual exhibition!
Lindsay Wright, Associate Director of Communications, sneaked through the crowds of young people and families with children who had gathered at the OMCA for the events organised every Friday night (Friday Nights at OMCA) to pick us up at the entrance.
In addition to the museum's permanent exhibitions, the Art Gallery, the History Gallery and the Natural Science Gallery, OMCA is renowned for its temporary, out-of-the-box exhibitions!
We came across an exhibition of gay people history in California (Queer California – Untold Stories), quite shocking (especially for the elderly couple visiting from Jordan who was with us), with quite explicit pictures on the walls. An exhibition on the history of "Black Power moves in California" is currently running, and from October 16 they will exhibit "Chicano Roots of Dia de los Muertos in El Movimiento Vivo".
What we found super interesting is that the Oakland Museum of California hosts these Friday nights for family fun, they bring in singers and dancers and outside the museums there are a lot of food trucks and everyone has a good time every Friday from 5 to 10 p.m.
Next day in Oakland was governed by food! Food everywhere! We tasted and tested, ate and drank, then do over! We started with a hearty breakfast at Claremont, continued with the Jack London food tour, had lunch at Doña Tomás's, stopped for a beer tasting (and food) at Drake's Dealership during noon and later in the evening we experienced Abstract Table!
 Oakland is a must for foodies!
Claremont Club & Spa is a landmark in California and one of the most iconic hotels in America. Located just 12 miles (20 km) from San Francisco, between Berkeley and Oakland, two cities full of character, Claremont celebrated its 100th anniversary in 2015 and currently has 276 recently restored rooms and apartments.
Bay View rooms and apartments offer stunning views of San Francisco Bay.
After a hearty breakfast, Nichole Dupre, Director of Sales and Marketing, led us to see the resort (rooms, spa and fitness room, swimming pools, tennis courts). All I could think about was that I would love to go back there with the kids, especially since the hotel has programs that are specifically designed for family fun!
MUST DO in Oakland: JACK LONDON FOOD TOUR with Lauren from Local Food Adventures!
I think Lauren wanted to kill us! Otherwise, I can't explain why she showed up with donuts to meet us prior to a tour that involves food!
She took us to Forge Pizza Oakland where we tasted pizza, tots, grilled green peppers with Parmesan cheese, all sprinkled with white and red wine.
We strolled around the bar where Jack London used to come for a drink and to write.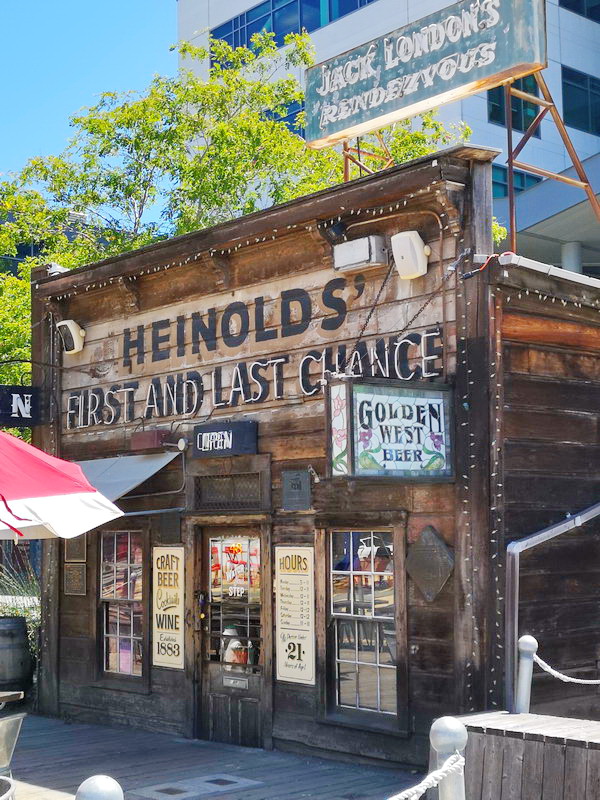 Then we stopped at Everett and Jones BBQ. What can I add? My face says everything: ribs, pulled pork, smoked chicken, garnishes, salads, all drowned in beer.
The tour ended at noon in the Temescal district, at Doña Tomás, when we were already full!
But we still made room for a freshly squeezed lime margarita and delicious guacamole! Okay, others (we won't give names… Florin) were also able to handle taco!
"Our goal is to serve classic Mexican dishes, with abundant produce and meat available in the Bay area, and to serve them in a fun and captivating atmosphere. We use as many local, organic, sustainable products as possible, from beef, pork, seafood and chicken."
Never had we ever felt so full, but then we went to a beer tasting at Drake's Dealership, which melted our hearts apart from tickling all our senses!
This classic brick building transformed into a full-service restaurant in Oakland's historic Broadway Auto Row, was once the sales and service department of a former Dodge retailer.
Under the close guidance of Drake's Brewmaster John Gillooly and Drake's Beer Educator Eric Ortega, we tasted 5 types of local craft beer (out of 32 varieties they serve on tap)! My favourite was the black one, fermented in bourbon barrels! You can't imagine the divine taste of it, with bourbon flavour!
These Drake's beautifully insane guys also brought something to nibble on, some kind of wood-fired pizza, delicacies created by Chef Taylor Smith (including crocodile meat). If I was full and I still loved this pizza, this says something about its taste, right?
I really enjoyed the crowded outdoor terrace with pit fire and live music they host a few days a week. There were many families with children who had gone out with friends for a beer and a wood-fired pizza, a burger or BBQ wings!
After a short break at the Waterfront Hotel, we managed to take a few photos at sunset and head to the last stop on our tour: dinner at GASTROPIG – Abstract Table, hosted by Chefs Andrew Greene and Duncan Kwitkor.
We had our first fine dining experience in Oakland, even in a less pretentious setting (that's exactly what the Chefs are looking for). Founded by Chefs Andrew Greene and Duncan Kwitkor, Abstract Table is a dinner series (held only on Thursdays, Fridays and Saturdays) that offers conscious fine dining with no boundaries or pretension.
The multi-course tasting menu combines Japanese influences with diverse global flavours. The price is fixed: $ 85 per 7-course menu and $ 65 per 5-course menu, both with water and earth elements. For inspiration and the exact menu, visit the official Abstract Table website.
The special dishes, arranged in small but extremely tasty portions, ended perfectly a day when we discovered the delicioUS Oakland!
I hope I've convinced you that Oakland is a tourist destination in itself, and if you get to California, you shouldn't miss it! For a one-day trip or multiple days stay, we found the city extremely interesting, the people welcoming and the food delicious! Plus, it has excellent and cold beer!
Our visit was organized and sponsored by Visit California and Visit Oakland, but the opinions in the article belong entirely to us, as a result of our personal experience in the Post-FAM tour (a post-event tour for IPW 2019, to get acquainted with the state in which the event takes place) Bay or Bust, a 4-day tour through San Francisco, Oakland and Santa Cruz.
After the second night with our host, Waterfront hotel, we are preparing for a last full day in Santa Cruz, a hiking through the redwoods of California, a steam train ride to Roaring Camp, a private party on a luxury yacht, sailing through Monterey Bay, and a Californian sunset on Seascape Beach by a bonfire!
If you feel like it, you can also read the article about how it was at IPW 2019, Anaheim, California!
Stay in touch and do not forget to follow our Facebook page, the group Călătorii cu copii (Traveling with children), the Instagram account and share the article, if you liked it, of course!
Share post
Comments